Steering Column and Intermediate Shaft for 2012 Ram C/V
No.
Part # / Description
/ Price
Price
Backordered
Backordered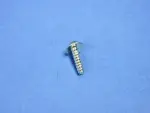 Tapping Round Head Screw
Clockspring Module Attaching. Shroud to column. Steering Column Module to Lockhousing. Shroud to Lock Housing. [m4x1.40x14.00]. Shround to Steering Column. Multifuction Switch to Lock Housing.
Hex Flange Head Screw
Extension Shaft to Steering Gear. Steering Column to Steering Gear. Extension shaft to strg gear. M10x1.5x35.. 21. Intermediate Shaft to Steering Column.
Steering Column Lock Housing Fastener
Ignition switch to lockhousing. Lockhousing to Jacket Assembly. Ignition Switch to Lock Housing. Lockhousing to Jacket Assy. Lock Housing to Jacket Assembly.